---
Opportunity for an Important Dialog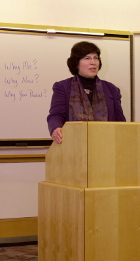 As a presenter, Sherril Small addresses the single most important factor driving business growth – customer acceptance. Sherril sparks thinking by introducing ChangeMarketer concepts that get people asking and answering, are we …
Leveraging marketplace forces that matter most?
Communicating value concisely and competitively?
Positioning to speed acceptance and growth?
She is described as having:
A gift for simplifying complex business issues
The strength to keep groups focused on the objective
Deep understanding, unflagging enthusiasm and the drive to exceed expectations
Sherril's talks focus on how to harness marketplace forces and accelerate customer acceptance of market-changing technology.
Client Quote
"Sherril has been a huge help with my start-up company. She has provided the detailed steps with our marketing to facilitate our company's dream of taking our product to market and eventually an exit strategy. We would have never made it without her guidance!"
Kelly LeBlanc
DDS
LeBlanc Dental Products, Inc