A Marketer's Perspective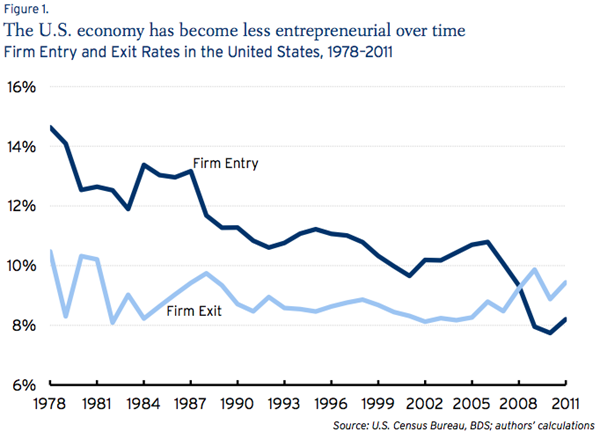 Source: VentureBeat  How Startups Are Dying Faster Than They're Being Created
Lack of Market Visibility Threatens Viability
This headline, "How Startups Are Dying Faster Than They're Being Created," as reported in VentureBeat, caught my attention. You can't help but ask yourself why? While the implications for the economy are obvious and the potential reasons many, I would like to counsel startups to consider how their approach to marketing is tied to their outcome.
In my work with startups I see a number of reoccurring issues that make or break success. I want to touch on three of those now.
1.  Marketing is different than sales
An all too common startup pattern is to have an idea, build a product, hire sales people, consume available cash, and then lay off sales people. Notice that marketing was missing in this chain of events. It is marketers who understand how to identify the optimal target customer—those most likely to purchase. It is marketers that ensure that a set of steps get built to allow a prospect to buy, cost-effectively.
2.  Marketing needs to address "fear of the unknown"
Be realistic about how much change your potential customer has to experience in order to benefit from using your new product. For many, change heightens the fear of the unknown, and this can really put the brakes on the selling process. Storytelling and analogies are powerful ways to help change fear of the unknown into known ideas or action, accelerating the buying process.
3.  Marketing sits between "make" and "make money"
If you want to be able to make money from your efforts, then marketing perspective is crucial in shaping even the earliest product decisions. Otherwise, valuable time and resources can be wasted. I have been able to facilitate the extraordinary change in perspective founders make when the inside "idea" view and the outside "customer" views are merged.
In my own practice I address these issues with an approach that I call Systematic-Marketing; a process which identifies the steps and messages used to convert prospects into buyers, cost-effectively.
Details are available in a previous blog post titled,
"Are you practicing systematic-marketing?"
Change the Odds
Last week, when I was the speaker at the University of Washington – Center for Commercialization (C4C)—Startup Seminar Series, Systematic-Marketing was the topic that generated the most follow-up emails and discussions among the participants. This is not an isolated experience. It arises when mentoring startups, as well as during discussions with investors and with other service providers.
If more startups approached marketing as a systematic set of steps to be built in unison with their product development efforts, it would improve the odds for success. This is one of the ideas driving the proliferation of startup incubators and accelerators. While hard data is still difficult to come by, the entrepreneurs involved will tell you that their participation was a life-changing experience, saving enormous trial-and-error learning in the process.
9Mile Labs Accelerator Event
If you are interested in participating in the startup community, consider attending the 9Mile Labs high-tech B2B accelerator graduation event being held May 16, 2014, at the Four Seasons in Seattle, Washington. Event and registration details can be found at m9.9milelabs.com.